Joe Cheves, alias Sawmill Joe, graced us at PastaRun Music with fantastic insight into his life and music in our lengthy, yet charming interview. Despite illness, a robbery, recording his debut album JeffCo, and his day job; Joe has a sincere and upbeat personality that transfers into his music. Sawmill Joe's down-to-earth songs feature the story-telling and everyday problems that have persisted in American folk and blues throughout the centuries. Without further ado:
PRM: You started out as a solo act a few years back; did you always intend on pursuing a music career with a touring schedule, or was it initially just for pleasure?
Joe Cheves: Not at all. I suppose I was just interested in doing it! I thought it might be cool to be able to play the songs I had written for people, and play them well. Initially I was turned off of the whole thing cause I didn't think I was very good. I actually played one show when I was 19, hated it, and then didn't play again until I was 23. My roommate at the time begged me to play a song I had just written (Ain't Nobody's Problem of all songs) at the bar near the mill. People liked it. That's when it all started. As for touring with the band, I figure why the hell not? I've got a good opportunity with the Lumineers playin' my song so I'll go for it. I'd rather not saw logs for the rest of my life, but if I have to then that's cool too.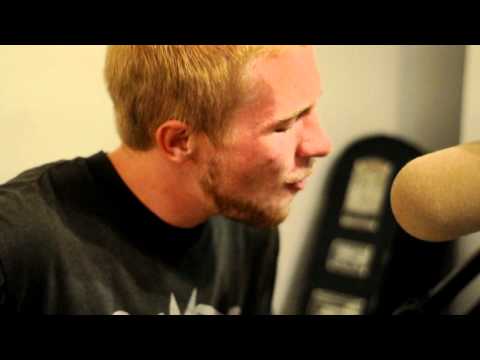 PRM: Have you always been interested in music? Is there something that sparked your interest in playing music, or anything specifically that motivates you?
JC: Yeah I've loved music for as long as I can remember, church hymns as a kid, mom singin lullabyes, I've always enjoyed it. When I was seven I used to sneak into the basement and listen to my dad's Hank Williams CDs. I thought CDs were just about the coolest lookin thing in the world! My brother got a guitar from my uncle once and learned to play it pretty well. He had a great right hand technique, he beat the hell out of the thing, and that stuck with me. I applied it the blues as soon as I could. As I've grown I've learned to play guitar better, but I mostly appreciate music for the element of storytelling and lyricism. I try to write honest songs based off of stuff I've experienced or stuff people close to me have experienced. Life lessons and all that. I have a tendency to unconsciously put other peoples stories into my songs. That pisses some folks off, others appreciate it. I guess if I witness someone dealing with something heavy, I feel it too in a way. I think theres a word for that but I don't know what it is. My music is kind of depressing, its blues music. I'd rather write a song that conveys something real and impacts a few people deeply than something catchy that everyone likes. If I start doing wordless oohs and ahhs and melodys and hooks, I pray someone will stop me.
PRM: How have the dynamics of your music changed as you have slowly added new members? Is anything easier or more challenging than you expected?
JC: Forming the band has been an experience. I did solo work for so long and rarely played with or sat in with other people. The music has changed a lot, its still blues but so many options opened up with the addition of new members. I'm still feeling it out. It's my first band and I'm 27 years old. I can learn the new tricks though. Songwriting is different, I used to rely heavily on my own guitar for melodies and percussive effects but hell now I've got a band that can do all that. These guys are good too! I can just say "This melody, these chords, these words, this feel" and they'll put a whole damn track together in one night! It's a blast. I wouldn't even consider touring solo, but with these guys I'm all about it. We've got a cool range of dynamic too, from slow, sparse, lonesome blues ballads to full out rock and roll. Loud as hell.
PRM: You said that you met the Lumineers at some open-mic nights a few years ago. Have they been helpful with any advice and anecdotes that has helped in your work on a debut album?
JC: I met the Lumineers playing open mics at a bar called the Meadowlark in north Denver. I was a wreck at the time, I'd been living in the sticks for five years, moved to Denver, broke up with my girlfriend and went insane. I'm surprised they even gave me the time of day, I was a drunken mess! I saw them play once, just Wesley and Jeremiah, and was blown away. I went to every single one of their shows for six months. They added Neyla to the mix during that time. They had just moved to Denver from NYC/Jersey area for a fresh start. I think they met Neyla out here. Wesley and Jeremiah had been playing together for years. Wesley asked if I could teach him a tune of mine, "Recession Blues", for a Denver Does Denver music festival. I suggested "Ain't Nobody's Problem" because it's a way better song. They put it into their live setlist and still play it. It seemed like overnight they exploded and honestly we're not in close contact anymore. They're busy as can be and so am I, there's no bad blood or anything but those guys are just touring all the time. Occasionally I get to play a show with them and that's always an experience. One day I'm cutting logs at a sawmill and out of blue in three hours I'm singing at Red Rocks to a sold out crowd. It's a trip. As for advice on recording and music there are so many helpful, friendly musicians in Denver that have guided me. It's a great scene here, not competitive and brimming with talent. I've learned a lot in the past two years and owe lots of it to these folks right here in Denver.
PRM: With the rapid pace at which a band can rise to fame these, must be re-encouraging for a musician starting out, how do you handle prospects of fame and the popularity of your music?
JC: I've seen that with a few bands, but it's not honestly something I'm worried about at all. I mean that might be cool and all if that happened but I know what our music sounds like and I just don't think it's gonna explode. It's a little dark, and pretty raw. And honestly I'd prefer if I didn't. It sounds weird I know, but if my music dream came true I would have a small following countrywide that I could tour and play to. I'm not a showman, and I find big crowds a little impersonal. If it were to happen, I don't know I guess I'd adapt. I'm not in this for money or fame and never have been. I just like playing songs to people who are listening, be it 5 or 50.
PRM: Your first full band, full-length album, is in the works as we speak. Did you run into any unforeseen challenges in producing the album? Have you taken your sound in a different direction with the upcoming album?
JC: Yeah this album might throw some folks off. It's completely different. The same idea is there, real stories and thoughtful lyrics on a blues base, but the band takes it in a different direction. Louder, faster, and somehow even sadder than the first one. I wrote most of these songs with the band in mind. A few tracks sound like the first album with the slow country blues roll goin on, but some tracks are crazy. The first album I recorded I just went to my friend Logan's apartment on Colfax, sat down and played each track through. I think I did a second take on Destitute Blues and Anymore. We added cello and harmonies and the whole thing took about 9 hours. Real simple. This new album, JeffCo, was a whole studio production thing. Cost a shitload of money, and took a while. It sounds awesome though. I'm lovin the full band. I hope my fans aren't pissed off about it, I think it's pretty good.
PRM: Do you view your music to be Folk music? Why or why not? What are some criteria of Folk music to you?
JC: Man that's a doozy. Folk music is a massively complex subject. I would definitely consider my music to be folk music. I might not be singing about hopping trains and Appalachia and the traditional elements of American folk, but I'm singing about my life and love and most importantly, telling stories. It's got blues flavor to it, some of it's poetic and a little obscure, but in 100 years maybe someone will listen to it and say "Oh! So that's what it was like to be a drunk, reckless sawyer in the early 2000s!" But I also think folk music tends to be defined by the use of acoustic instruments. I mean we hear some African group playin foreign instruments and we call it "world music" but in the end we're all singin about the same stuff. Rappers rap about their lives and desires, and zydeco bands stomp around and do the same thing in their way. Maybe it's all different flavored folk music, or maybe I just escaped giving you a straight answer. You tell me, that was a tricky one.